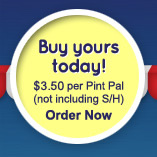 Have a favorite pint brand and flavor? A favorite scoop shop? Post to the Pint Pal blog to share your thoughts with a community of ice cream enthusiasts like you.

---
Chocolate Fudge Brownie (Ben & Jerry's)


Kathy O, St. Augustine, FL - 10/7/2019

Half Baked (Ben & Jerry's)


Donna K, River Vale, NJ - 3/7/2019

Pancakes & Waffles (Halo Top)


Edwin G, St Petersburg, FL - 1/19/2019

Everything But the Kitchen Sink (Ben & Jerry's)


Josh T, San Antonio, TX - 12/16/2018

Karamel Sutra (Ben & Jerry's)


Trish H, Mount Airy, MD - 10/31/2018

Cookie Dough (Haagen-Dazs)


Patrick A, Seattle, WA - 1/4/2018

Half Baked Ice Cream and Chunky Monkey (Ben & Jerry's)–A regular weekend occurrence about to get better because of Pint Pal.


Tyler S, Columbia, SC - 1/4/2018

Coffee and Mint Chip (Haagen-Dazs)– I really look forward to giving these as a gift AND using one for myself!


Jen K, Austin, TX - 12/18/2017

Cookie Dough and Phish Food (Ben & Jerry's)–I wanted to order Pint Pal as a stocking stuffer surprise.


Weston W, Greenville, SC - 12/13/2017

Half Baked Ice Cream (Ben & Jerry's)


Matt B, Davenport, IA - 12/11/2017

Halo Top–She really loves it to satisfy her sweet tooth.


Chris D, Long Beach, NY - 12/6/2017

The Tonight Dough/Jimmy Fallon (Ben & Jerry's)


Damien A, Clearwater, FL - 12/4/2017

Chunky Monkey (Ben & Jerry's)–My boys needed their own as a Christmas gift.


Penelope S, East Palatka, FL - 11/6/2017

NY Super Fudge Chunk (Ben & Jerry's)–A great X-mas gift for my adult daughter.


Judy, Bonita Springs, FL - 12/2/2012

Bananas Foster (Haagen-Dazs)–It's limited edition so you may have to do a little searching but sooooo worth it!


Shante H, New York, NY - 10/26/2012

Red Velvet Cake (Ben & Jerry's)–Cake and ice cream--almost as good as ice cream and Pint Pal!


Miriam, Jupiter, FL - 8/14/2012

Chocolate Peanut Butter (Haagen-Dazs)–My fiance and I love it; we hope the same for Pint Pal.


Dan E, Broadview Heights, OH - 7/3/2012

Any Dove pint–Love the layer of chocolate ganache on top; frozen treats help beat the heat, Pint Pal keeps it neat!


Michelle, Key Largo, FL - 5/15/2012

The Buckeye State (Jeni's Splendid Ice Creams)–Peanut butter & dark chocolate--simply amazing!


Dawn C, Columbus, OH - 4/28/2011

Pfish Food (Ben & Jerry's)–It's heavenly with a Pint Pal!


Eric, Greensboro, NC - 3/18/2012

Raspberry Sorbet (Haagen-Dazs)–Pint Pal prevents the frozen headache--they're both so great.


Donna, Charlotte, NC - 1/23/2012

---
Ben & Jerry's Scoop Shop–can always find my Mint Chocolate Chip there!


Brittany A, Cornelius, NC - 12/19/2017

Coldstone Creamery


Matt B, Davenport, IA - 12/11/2017

The Chocolate Bar (Houston, TX)–they've been on TV for their chocolate creations and cakes, but their ice cream flavors are AMAZING (root beer float, chocolate covered strawberry and on and on); and they'll hand pack a pint to go!


Josh B, NY, NY - 7/20/2012

Graeter's–a wonderful variety of flavors, especially the ones with chocolate chunks in them!


Jim, Dayton, OH - 5/14/2012

Friendly's–they've been around forever but you can't beat their sundaes.


Ron, Tom's River, NJ - 12/15/2011

eCreamery (Omaha, NE)–love their custom made pint flavors.


Pint Pal fan, Sunrise, FL - 12/11/2011

Jaxson's Ice Cream Parlor (Dania Beach, FL)–some of the greatest offerings you'll find!


Josh B, NY, NY - 10/31/2011

Shake Shack (New York, NY)–while most go for the burgers, the frozen custard is great and then blended with awesome toppings to create amazing ice cream concoctions!


Josh B, NY, NY - 10/31/2011
There are serious errors in your form submission, please see below for details.
Please enter the comment
Please enter your name
Post a comment